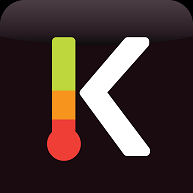 About the project
Developing and implementing the KreativBarometer (barometer for creativity climates) is a practically oriented project of the Ruhr-Universität Bochum, the Institute of Applied Creativity (IAK, Köln) and selected business partners.
KreativBarometer info sheet (german)
KreativBarometer-Client (Windows)
Demo account:
You can test the KreativBarometer for free by registering on kreativbarometer.de/register with the 'Abteilungs-Schlüssel' lmrjmlx6  Your given answers are evaluated every Thursday to generate new results. You can also test the KreativBarometer-Client for Windows for answering items.
Press review:
Pressemitteilung vom 16.10.2012
idr 2012/1616 (Krö) vom 17.10.2012
Ruhr Nachrichten vom 17.10.2012
http://www.schulz-kirchner.de vom 18.10.2012
www.qz-online.de vom 23.10.2012
WAZ zum Kreativbarometer vom 15.11.2012
Berliner Morgenpost vom 24.11.2012
Qualität und Zuverlässigkeit 2/2013
Goal: We want to enable companies to measure the dynamics of their working climate with an intuitive, easy-to-use tool. Working like a monitoring tool the KreativBarometer helps detecting negative trends in time, increasing the chance of preventing them. Anonymity, none-obtrusiveness, self-determination and transparency are the projects principles and also its main challenges. Additionally to questions regarding the creativity climate, the participants are asked for their current health perception. Data to investigate possible correlations between employee health and the climate they work in is collected.
Feedback: The results of the tool are presented continuously in an aggregated form. Critical tendencies are visualized and initialize an internal communication process about causes and their rectification.
Benefit für Unternehmen: The KreativBarometer enables companies to better exploit their creativity and innovation potential. The continuous monitoring helps detecting flaws in time and has a higher significance than selective measuring points every one or two years. Within the project the companies can participate in creativity sessions, in which outcomes are presented and interventions discussed.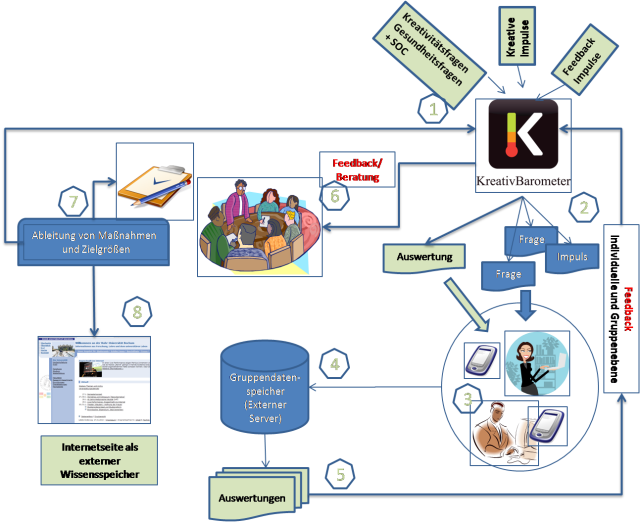 KreativBarometer – A sociotechnical approach: The KreativBarometer is based on a sociotechnical approach. Its strength is the interrelation of a systems technical with its social aspects: The creativity climate gets measured by an IT solution; changes are visualized and fed back to the group digitally. The figure gives an overview of the sociotechnical deployment of the KreativBarometer in a company: Employees receive questions via the tool (1). They can use their desktop computer or a mobile device to answer them (2). The collected data is automatically analyzed and aggregated (4/5). Participants receive feedback about their own results, the results of their team/department and of the whole company all conform to a strict privacy concept. Collaborative reflection meetings take place at predefined points in time, with the option of utilizing an external consultant (6) and the goal of working out target scores, the group wants to achieve in the future (7). To control the success of the intervention the cycle repeats from the start (1).
Workshop
| | |
| --- | --- |
| | A Kick-off workshop attended by representatives of all project partners took place at the Rohrmeisterei in Schwerte on 18.11.2011. Depicted are the business partners competing in a marshmallow challenge. |
Partners
Lehrstuhl für Informations- und Technikmanagement am IAW
Informations- und Technikmanagement

Ruhr-Universität Bochum

Prof. Thomas Herrmann

Jan Nierhoff

Michael Ksoll

Kontakt: E-Mail
Institut für Angewandte Kreativität
Institut für Angewandte Kreativität, Köln

Peter Weil (Geschäftsführer)

Leander Greitmann

Kontakt: E-Mail
Business partners
Landesinstitut für Arbeitsgestaltung des Landes Nordrhein-Westfalen – LIA.NRW
adesso AG
Bezirksregierung Arnsberg
ERCO GmbH
IKU GmbH
KHS GmbH
Kassenärztliche Vereinigung Westfalen Lippe
OrgaTech Gmb
Technologieberatungsstelle beim DGB NRW e.V
Contact
About the project