MIRROR – Reflective Learning at Work
Funded by the european commission (FP7-ICT-2009-5)
Starting date: 07/2010.
Duration in month: 48
Project homepage:
mirror-project.eu
Workpage lead by IMTM:
WP6 "Collaborative knowledge construction"
Short Description
Due to the dynamics in business environments and the large number of changes in job roles and tasks for employees, a time-consuming development of formal learning offers and the organisational-wide provision of vocational training are barriers for the wide adoption and use of learning technologies. Especially SMEs perceive current learning technologies as insufficient to support learning-on-the-job.
Thus, the overall objective of MIRROR is to empower and engage employees to reflect on past work performances and personal learning experiences in order to learn in "real-time" and to creatively solve pressing problems immediately. MIRROR shall help employees to increase their level and breadth of experience significantly within short time by capturing experiences of others. A prerequisite for exploring innovative solutions in this context is to rely on human ability to efficiently and effectively learn directly from tacit knowledge – without the need for making it explicit.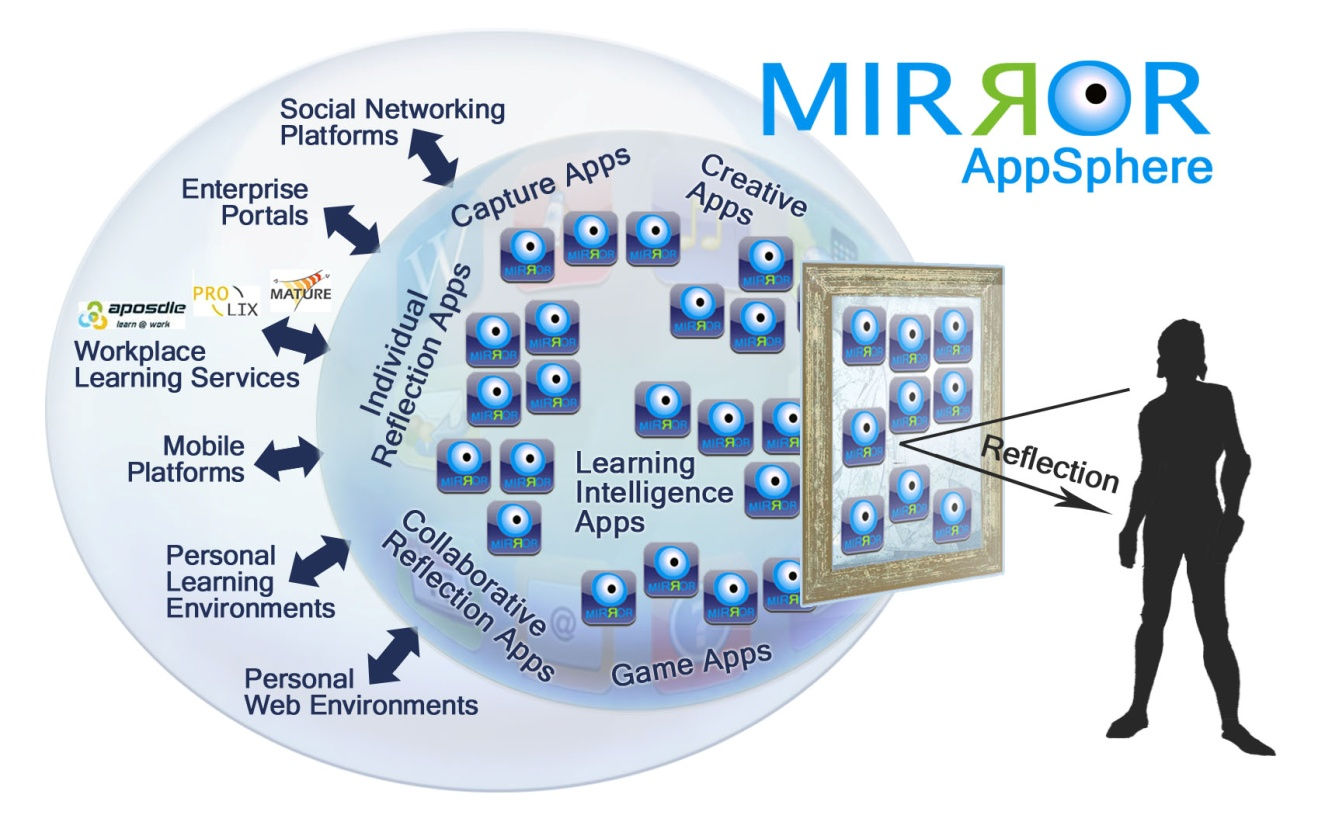 Specifically MIRROR will provide the following output:
Conceptual model of holistic continuous learning by reflection which incorporates the essential ingredients of training critical thinking, awareness of emotions, (collaborative) knowledge construction, creative problem solving and innovation.
Within a so-called "AppSphere" a bundle of real-time, interoperable learning applications that can be used within the collaborative and social work environment of the employees.
Prove of learning effectiveness through evaluation within five testbeds.
MIRROR will be the first technology-enhanced learning approach that can be used in highly dynamic working situations where no teachers, no formal content, and no explicit knowledge are available. Existing research results from projects such as APOSDLE, MATURE, PROLIX will be made enriched by combining them with MIRROR applications.
The MIRROR consortium brings together 15 partners of Europe's TEL industry, high-quality research and testbeds.
IMTM Publications in MIRROR
Sorry, but the selected Zotpress nickname can't be found.
Consortium
IMC AG (DE)
KNOW-Center (A)
imagniary srl (IT)
Deutsches Forschungszentrum für künstliche Intelligenz (DE)
City University (UK)
Forschungszentrum Informatik an der Universität Karlsruhe (FZI) (DE)
Norges Teknisk-Naturvitenskapelige Universitet (NO)
Britisch Telecom> (NL)
Tracoin Quality (NL)
Infoman AG (DE)
Regola srl (IT)
Registered Nursing Home Association (UK)
Neurologische Klinik Bad Neustadt (DE)
Knowledge Media Research Center (DE)
Contact
Prof. Dr.-Ing Thomas Herrmann (WP 6 Lead)
Collaborative Learning, CSCW, Knowledge Management
Focus: Socio-technical system design and patterns, creativity, facilitation of work and communication processes Michael Prilla
Computer Supported Cooperative Work, Knowledge Management, Web 2.0, collaborative work process analysis Martin Degeling
Privacy Enhancing Technologies for collaboration systems, collaborative co-located reflection, (web) application development
Angela Carell
Computer Supported Collaborative Learning, creativity and self-direction in learning, group cognition and learning Kai-Uwe Loser
Privacy and E-Learning, Participatory Design