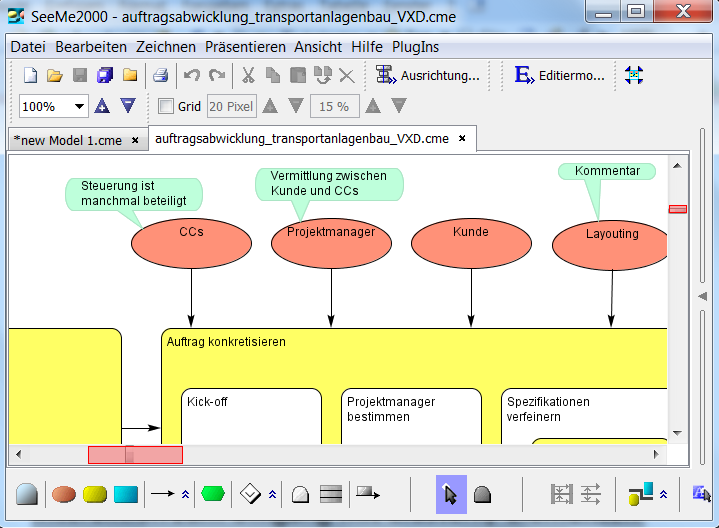 The Seeme Editor
SeeMe2000 is a graphical editor for the creation of SeeMe models and also for their flexible presentation.
Supports all Notation Elements
It is unnecessary to design SeeMe's graphical elements on your own. Start modeling with SeeMe now.
Professional Design
Layout tools, flexible embedding and anchoring of relation endpoints simplify the creation of diagrams. Comments and titles can be added directly, giving the diagram higher clarity.
Support of Flexible Presentation Development
Overview, Extensive search and selection tools and the revolutionary technique of Show / Hide of entire parts of a model make the editor for versatile companion on presentations and in the project. Take advantage of the possibility to use screenshots for showing the model from different perspectives!
Integration to your Knowledge Management
Export diagrams as picture and EPS. Make use of the linking mechanism, connecting Seeme-elements and additional data.
Flexible Deployment
By the decision to implement the SeeMe editor in java emerges the possibility to deploy the editor on every hardware that supports a virtual machine. Unix, Linux, Windows and MacOS X, you only need one editor.