Coordination of services by microsystems technology input devices
Project aim
Staying in their own home as long as they can is a desire many people have when they get older. However, if health conditions make medical care inevitable or house cleaning becomes almost undoable, proper help has to be found. The research project Service4Home aims at supporting this task with an ostensibly simple concept.
The goal of the project is the development and testing of work and organizational structures for domestic services by using microsystems technology.
The microsystems technology will improve information exchange for requesting and conducting services, thus supporting the organization and management of service conduction. For this, a socio-technical concept for service organization will be developed, which by intertwining technology and steps of service conduction will support the coordination of service providers. In conjunction with this concept, a business model with a service agency as its core element will be developed. Besides coordinative work, this agency will be responsible for continuous quality assurance of service conduction. For the conduction of services, the project aims at establishing a combination of volunteer work to foster the intergenerational exchange and professional service providers. This is supposed to keep cost for service utilization and therefore improve the acceptance of the overall concept. Additional, this combination is supposed to establish a culture of well-being in living areas comprising inhabitants of heterogeneous age.
Approach
The foremost part of work in the project so far was devoted to observations and enquiry in the living area chosen as a pilot area for the project. In particular, service offerings and social characteristics of the inhabitants of the area were gathered and interpreted.
Additionally, statistical evaluations of interviews concerning domestic services, which covered questions of service desires and potential payment models, were conducted. As a result, there is a demand for domestic services, but the willingness to pay for it is rather low. This is caused by unrealistic assumptions of potential customers on the cost for particular services. In contrast, services covering the duties of tenants such as stairway cleaning have shown a high acceptance.
A supplementary analysis of other domestic service projects revealed that using technical components such as in Service4Home is only applicable for a small target group of customers. Residential companies have tried different approaches, but most solutions in use work on a rather low technological level.
To analyze the situation in the living area, we additionally conducted observations and expert interviews with both elderly people living in the area and co-workers of care organizations. Thereby, we were able to gather and document information on the current situation of these people and gain insights on existing service offerings supporting them in their daily life. These insights were discussed with the project partners.The technology to be used in the project is based on digital microsystems writing technology (pen technology): for writing, a special device resembling an ordinary pen in weight and size (15 x 2 x 1,5 cm) is used to fill in forms printed with special patterns not visible for the human eye. The pen's build-in camera captures and stores this handwriting and sends the resulting data to a service center. The advantage of this technology is that with ist similarity of a pen, it can be used instantaneously. This will especially foster its acceptance with elderly people. The pen technology has already been successfully applied in monitoring and diagnosing cases for e.g. diabetes care with elderly people (as part of the framework program "Healthy NRW").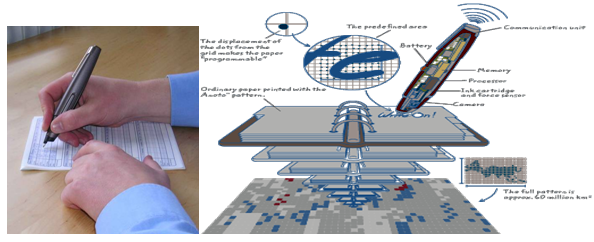 Field of Investigation / Participating Institutions
The project will be carried out with several scientific and commercial partners:

Further Information
For more detailed information, please refer to service4home (in German language).
Contact
Information and Technology Management
Ruhr-University Bochum