Kolumbus 2 CoWriter – create. collaborate. communicate
Kolumbus 2 CoWriter combines the advantages of an empirically proven groupware system with the increasingly popular notion of applications on the web. Combining features such as contextual communication, task-specific perspectives on content and support for group work with an ubiquitously accessible AJAX word processor usable in a web browser, the system provides a whole new way of group work on content.
Kolumbus 2 CoWriter offers flexibility in the creation of materials by providing a broad variety of content types: images, binaries, folders, hyperlinks and textual content are supported.
Users can build up workspaces on an arbitrary number of items. Access control is governed by a RBAC subsystem. Depending on a user's roles, a set of different functionalities to create, use and share material is available for each item.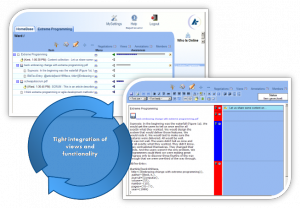 Staff
Kolumbus 2 CoWriter is maintained and developed by the following members of staff at the Dept. of Information- and Technology-Management:
Head of Dept.
Research Assistants